VALUE YOUR HOME
Get a free home valuation instantly using our simple home valuation tool.
From
our family

to

your family

, we're

here for you

.
Residential

Seller

Services
We are Lake Norman Realty and WE KNOW LAKE NORMAN. We have called this area home since 1978 and have the knowledge and market presence necessary to getting your property sold. With six offices in the area and over 100 of the most well trained and professional associate advisors, Lake Norman Realty wants to be your choice when it is time for you to make a move. Experience the Lake Norman Realty difference; you deserve it!
Property

Management and

Rentals
Looking for a rental? Look no further than Lake Norman Realty Property Management. Our department boasts a large selection of homes for rent in the area. Whether you're interested in a waterfront showplace, a rural retreat or anything in between, chances are we have just what you're looking for.
Residential

Buyer

Services
WHAT BRINGS YOU to Lake Norman and the surrounding area? Be it a job, a community, a lifestyle, the weather, or a family; any reason for choosing this vibrant region is a good one. We serve buyers from Charlotte to Statesville and every destination surrounding this beautiful place we love to call home. We hope you can call it home soon too.
Lake Norman Realty is honored to represent the Charlotte/Lake Norman market for Who's Who of Luxury Real Estate, an invitation-only international network of the world's finest real estate brokers and luxury communities. Who's Who members sell in excess of $190 billion of real estate annually worldwide, with an average sale price of $2,450,000.
With backgrounds in business, finance & law…our team of commercial agents is ready to provide each valued client with real-time market information, meaningful ROI metrics, constant contact & proven negotiation and closing tactics that give you the confidence and security to go forward.
Are you ready to relocate? We can assist you with all aspects of your move not only locally but also nationally and globally. Through our network with Leading Real Estate Companies of the World, we can assist you with relocation in over 50+ countries worldwide. We can offer you additional assistance with car rentals, hotel accommodations, household moving and more. Our world class connections are a necessity when it is time for you to make your move.
Working
 

with

 

Real Estate Agents

When buying or selling real estate, you may find it helpful to have a Real Estate Agent assist you. Real Estate Agents can provide many useful services and work with you in different ways. In some real estate transactions, the Agents work for the seller. In others, the seller and buyer may each have agents. And sometimes the same Agents work for both the buyer and the seller. It is important for you to know whether an Agent is representing you as your agent or simply assisting you while acting as an agent of the other party. This brochure addresses the various types of agency relationships that may be available to you. It should help you decide which relationship you want to have with a Real Estate Agent. It will also give you useful information about the various services real estate agents can provide buyers and sellers, and it will help explain how Real Estate Agents are paid.
For More
Information:
This brochure by the North Carolina Real Estate Commission may be downloaded.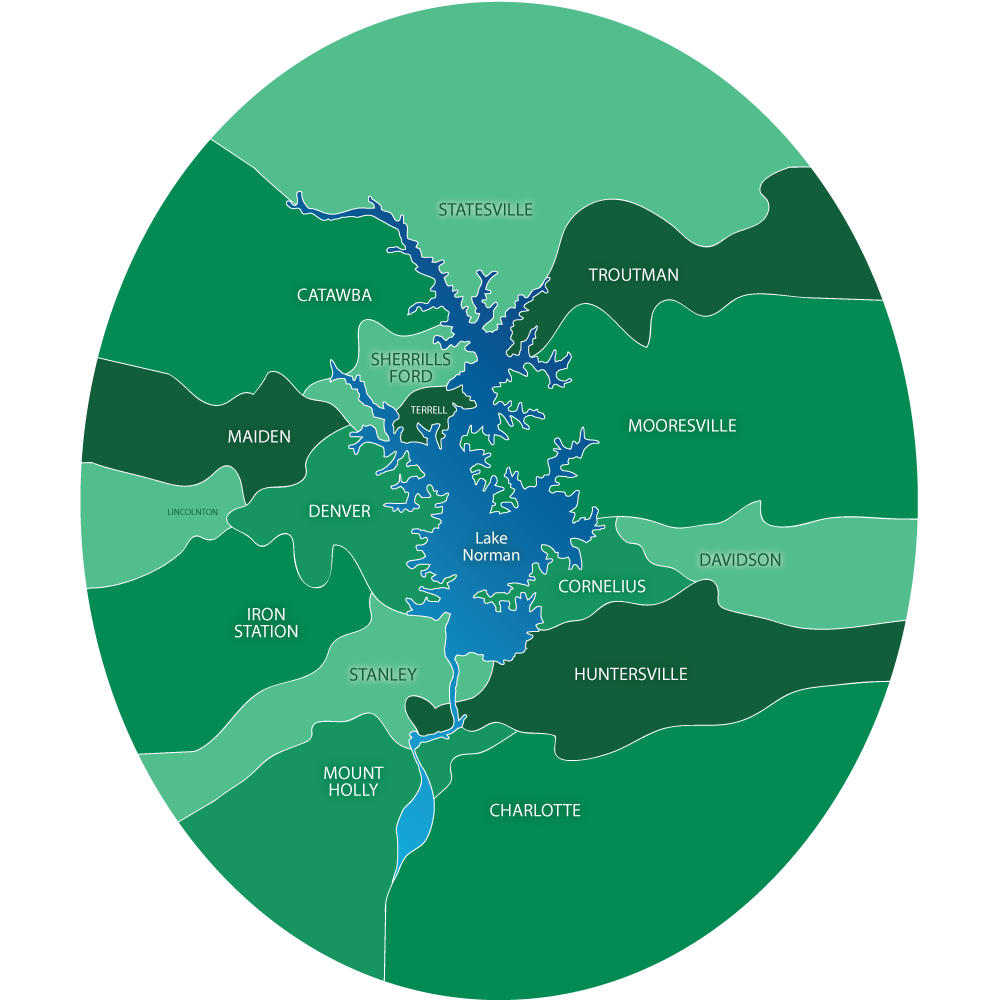 Our

Lake Norman

Region

Lake Norman is the largest manmade lake in North Carolina located just 20 minutes from downtown Charlotte, NC. With 520 miles of shoreline, and many unique towns surrounding the 32,000 acres of beautiful water, you will find everything from luxurious waterfront property to pastoral farmland. Lake Norman is country club golf at it's finest, but also the kinetic world of NASCAR. It is stunning new construction and innovative mixed-use development, but also historic downtowns and Revolutionary War landmarks. It's a place to retire and a place to make a start; a place to work and a place to recreate.

Relocating to the area and want to learn more? Email our Relocation Department at [email protected] for a free relocation guide.
"

 

…

sold in 6 days!

 

Expertly guided me through an amazing process without even one obstacle.

 

"
"

 

…was completely on target with

 

sale price and negotiations!

 

"
"

 

…was a dream

 

REALTOR

 

and listened to every word I said!

"
Ready to take

the next step?