James Plantation


Owners Association, Inc.
Denver, NC
James Plantation is a gated community located in North East Lincoln county, not far from the shores of Lake Norman.
This community is proudly managed by
Hecht Property Management in Denver, NC.
If you have any questions, please contact 704-489-9949 or [email protected]
Board of Directors
Robert Leslie
Michael Beerli
Michael Mock
Fred Smith
Justin Watts
Architectural Control Committee (ACC)

Kim Pizi
Justin Watts
Melissa Spivey
Anna Edwards
Sherry Mock
Tina Smith
Toby Wiles
Please contact the Lake Norman Realty Property Management office if you have any questions pertaining to the ACC or the ACC Guidelines.
All new builds and any exterior modifications to your home must be submitted for review by the ACC prior to commencing work.
Please see the "ACC Forms" to the right and return them to your Association Manager.
The James Plantation Association Board of Directors is comprised of volunteer Homeowners who meet at least once per quarter. If you would like more information about your Board of Directors and how you can become involved, please contact your Association Manager at
[email protected]
Location: East Lincoln County
City: Denver
Lot Sizes: 0.75 to 4.5 acres
Architectural Review: Yes
Water: County Water
Sewer: County Water
Utilities: Duke Energy / Lincoln County Public Works
Grinder Maintenance: Lake Norman Sewer & Septic - 704.483.5125
Minimum Square Feet to Build:
-2,800 sqft for 1 story
-3,000 sqft for 1.5 story
-3,200 sqft for multi-level
Schools
Lincoln County Schools
- Rock Springs Elementary
- North Lincoln Middle
- North Lincoln High
Special Features
-Streetlights
-County water and sewer
-Bring your own builder and plans
-Gated Community
Annual Assessment and Fees
$1,482.80 ($370.70/ quarterly)
Annual Grinder Inspection: $150.00 ($37.50/ quarterly)
Construction Deposit (refundable) $2,000 (effective 6/25/2019)
Grinder Installation Fee: $5,830
ACC Review Fee (non-refundable):$750 (effective 6/25/2019)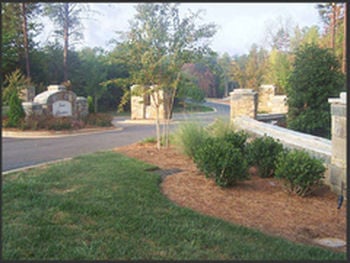 HOMEOWNER:
Click the above link to
pay your HOA Dues online
through AppFolio
If you have not set up your account to pay online, send an email request to [email protected] and a link will be provided to you.
HARDSCAPE & LANDSCAPE APPLICATION:

Prior to commencing any work to your home's exterior hardscape and/or landscape, please submit an application for review by your community's ACC.
Plot map, photos, samples, and/ or brochures are required with your application. Please include the scope of the project and the location of plants, shrubs, trees, and hardscape items. The ACC will approve, disapprove or make recommendations to all submissions within thirty (30) days after receipt of an application.
Please read your community documents (CCRs) before commencing an exterior project.
The Hardscape & Landscape form to submit an application for review by the ACC can be found on the right-hand tab on this page under the "ACC FORMS" section.
Notification of Changes to the
James Plantation ACC Guidelines,
as determined by the Board of Directors.
EFFECTIVE 2016
Slab on grade home builds are NOT PERMITTED
within James Plantation, as per the ACC.